New Products: Pointing Tools Now Available!
Monday, 3 October 2016 | Admin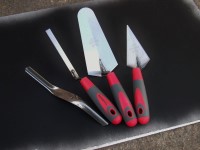 NEW PRODUCTS! POINTING AND JOINTING TOOLS
* Heavy-duty, highly polished correctly radius ended Brick Jointer. Size 3/8in x 1/2in. Manufactured from top quality steel. For profiling mortar joints.
*Soft Grip, 12mm (½") Tuck Pointer with Flexible Steel Blade.
*Soft Grip, 175mm (7") Gauging Trowel. A versatile trowel ideal for a whole range of uses from mixing to mortar application. Guaranteed for five years.
*Soft Grip, 125mm (5") Pointing Trowel with High Quality Steel Blade. Guaranteed for five years.