26 August 2016 | Admin
If you will be regularly buying Slimbricks, we can set up an exclusive area for you to login and call off your orders with your trade discounts already built in. Please call us on 0115 853 1980 and we will set this up for you.
25 August 2016 | Admin
Would you like £20 to spend at M&S? We would really like to see a photo of your completed installation and feature it on our site.
23 August 2016 | Admin

Have you ever thought about mixing colours and styles to get an even more varied look to your wall? You don't have to just order all the same style. You could mix and match most of our bricks together to get a fantastic looking wall. Eg. You might wish to mix various Cobbles together, which have the slightly rounder edges and corners caused by 'tumbling' during manufacture. Maybe throw in some Square Edge for a slightly contrasting edge style. For a darker mix order more Browns, for a lighter mix order more Creams, etc.
So for example you might order and randomly mix the following (for 7 sq m) :
22 August 2016 | Admin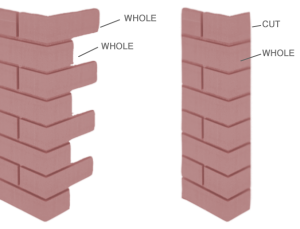 When fitting corner tiles to external corners (*) there are two popular options which we have tried to represent here.
18 August 2016 | Admin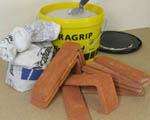 As stated on our Home Page, it is feasible for you to complete your whole project within one week of visiting our website!
Day 2
- Receive the samples. Make your choice. Measure up.
Day 3
- Place your order with us online or by phone 0115 853 1983 (before Midday). We can help you
work out the quantities
. We pick and pack your order for afternoon despatch.
Day 4
- Receive your delivery (most arrive next
working
day although we cannot absolutely guarantee this,
see Delivery and Returns
.
Ok, now for the disclaimer! We are in the hands of third parties once the samples and goods leave our premises but the above is a perfectly reasonable timeline. Most samples do arrive next day. Most deliveries do arrive next day.
17 August 2016 | Admin
We have just added a new larger Spacer Pack to our Fixing Materials section. This pack contains 500 spacers, enough to cover approximately 7.5 sq m of brick tiles. Spacers give that perfect finish to your wall by enabling you to evenly space the tiles.
16 August 2016 | Admin
This is usually when the bricks arrive wet. The bricks do dry considerably lighter. We suggest you lay the bricks out at room temperature for at least one week. You will then see that the bricks will match the sample when dry. In some brick 'styles' the bricks vary considerably in colour, even within a box, but this is deliberate because when they are mixed randomly on your wall they look superb. This does mean however, that you should allow for some colour variation from the sample you receive. We try to show the mix of colours on the website images. There are occasionally slight colour variations between brick batches because the same brick can be fired slightly differently, or be made from slightly different clay, etc.
12 August 2016 | Admin
We love to receive feedback, like this comment from a customer in Glasgow. Unlike many companies we all deal with nowadays, we do like to speak with our customers and not come across as robots! It's great when we get unsolicited feedback like the following email...
" Thank you so much for your good humour and prompt response. It is so nice to have a company that is so customer focused and such a pleasure to deal with even although it is such a small order. We will be going ahead but can you let me know the expected delivery date? I will give you a call shortly to proceed with the order.
Very much appreciated from a very wet and windy Glasgow"
12 August 2016 | Admin
It's worth reminding customers that we deal with orders ranging from multiple pallets to single boxes. For instance we are sending several crates out to Ireland this month. So don't worry, large or small, trade or DIY, you'll get the same excellent service. We even have experience of exporting slips to Dubai!
12 August 2016 | Admin
It can be a little confusing working out what you need. We have a
page that explains it here.
However, we are ready and waiting for your call on 0115 853 1983 if you are still a little unsure. All we need to know is the area of the wall you are covering with flat slips (tiles), ideally in square metres. E.g. If your wall is 3 metres wide by 2 metres high then the area is 6 square metres. We also need to know if there are any external corners and if so, the linear height of those corners. E.g If you have a chimney breast then there would be 2 external corners. We would need to know the linear height top to bottom. From this, we can help you work out the dimensions and provide a quote. We hope that helps!